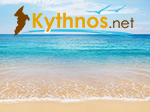 The beach Flampouri is located west of Kythnos at the the homonymous settlement of Flampouria. It consists of two separate beaches separated by a rock upon which sits the chapel of Panagia Flampouriani (Our Lady of Flambouri). The beach combines sand and pebbles.
The approach for swimmers is from various points where there is sand. The sea bottom extends gradually to the depths, which facilitates tireless swimming. The depths of the beach with the quickly interchanging underwater impress divers. A fine, clean sand alternates with pebbles, sometimes with reefs and rocks mainly in the center where there is a small peninsula - with the chapel on the rock.
The southernmost of the two beaches (to the left looking at the sea) and to the southern end it is customary to see nudism although officially it is not allowed. Avoid nudism during the high season of August as the beach is visited by families.
Geographical Position
:
* 37° 21' 00.93" (Latitude)
* 24° 23' 10.01" (Longitude)
Access to the beach of Flambouria
By sea
:
The starting point is the port of Merichas heading south. After 6 small coves the first big beach that belongs to Flampouria will appear. You will need less than 15 minutes with a speed boat while with a conventional boat a bit more. If you have a small boat, avoid traveling if Western winds or Southern winds are blowing.
By road
:
Although the region is closer to Mericha, the approach by car is accomplished via Dryopida as there is no coastal road from Merichas to Flambouria (or Flabouria). The route from Dryopida starts towards the main road to the south. The road is passable at Dryopida and you will not have any problems with either car or motorcycle.
By trail
:
Do not attempt to walk from Merichas if you are not get used to walking long distances. Moving away of Merihas to the South, you will have to traverse difficult sections and about 6 intermediate bays.