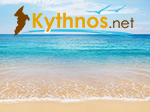 Although nudism is not officially allowed in Greece, if you don't provoke no one will disturb you. Nudists should use isolated and remote beaches where there are no families with children or churches and monasteries. Nudism is a life style according to which naked body is something completely normal and it is a way to come closer to life and nature. In Greece in the last years more and more nudists come to enjoy the blue-green waters and golden beaches. Kythnos has a large number of beaches that can accommodate the lovers of nudism - FKK.
In Kythnos there are no official nudist beaches, but there are many bays where anyone who wants to enjoy the beauties of the sea in a more natural way can go. Of course, each nudist should be aware that a beach deserted in May or June can be full of families in July and August. That's why it would be good to be careful about the right choice of beach.
The beaches usually used by nudists in Kythnos are those where access by car is difficult, are not organized and there are no settlements. A good choice is Agios Nikolaos, located between Megali Ammos and Skylos beaches. Here ends the Petraina stream, from which access to the beach (on foot) is possible. The visitor is dazzled with its blue waters and white pebbles, while on the right and on the left there are rocks. Another good choice is Styfos beach (near Agios Dimitris), where there are a few cottages, so it's not a good choice in season. It is located to the west of the island and magnetizes the visitor with the fine golden sand.
Other beaches preferred by the nudists are Liotrivi, which is on the way to Kalo Livadi, Trivlakas located to the west of the island, Livadakia (near Kalo Livadi beach), Vassilikos and Kastelas south of Flambria beach and north of Mavrianos beach. For those who enjoy their holidays by boat there are plenty of bays and coves to enjoy swimming and sunbathing naked away from prying eyes.