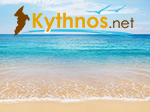 Overlooking one of the most beautiful beaches of Kythnos, Kolonas, lies the archaeological site of the ancient city of Kythnos. The archaeological excavation at Vryokastro is ongoing and overlooked by Professor Alexandros Mazarakis Ainian.
In 2002 the archaic temple of Apollo and Artemis was excavated, where a large number of votive offerings was found, impressive both due to their large number and their value. The offerings were mostly gold, bronze or silver but also bone jewelry (rings, earrings, bracelets, necklaces, etc.) and various small items were excavated. During the dig parts of the wall, temple, altar bases, underground water tanks (about 40 in number) and traces of the ancient agora (market) were unearthed.
The temple occupied the entire ridge of the hill, its size and the great number of votive offerings show the great importance it had for the entire Mediterranean basin. Among the findings are scarabs from Egypt, phoenician jewelery and other small items originating from various areas of the Aegean sea. This great variety of objects and their exotic origins give a new image of wealth to the island of Kythnos which comes to contrasts with what we have thought and known so far.