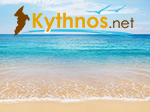 Sfougato is one of the most tasty traditional dishes of Kythnos. It can be described as small fried cheese balls, served everywhere in Greece, but to make it equal with all other cheeseballs it would be unfair. Thermian sfouggata are small fluffy balls ready to conquer the palate even of the most demanding connoisseur with their delicious flavor.
Their exquisite taste makes theμ a must to have appetizer that is usually served with ouzo or tsipouro. In Kythnos it is so loved that every year is organized a festival in its honor. What really makes the difference in its taste is the traditional goat cheese, known as ksino, which is soft and usalted. In addition to cheese, the main ingredient are fresh free range eggs. Many housewives enrich its flavor by adding various herbs such as dill, parsley, onion or even courgette according to personal preferences and season.
When visiting the island of Kythnos, don't omit to enjoy your ouzo at one of the seaside taverns or coffee houses alongside with the local sfouggato. They serve it at all the restaurants and there is no way you will not fall in love with it.