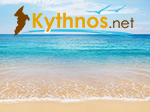 The Stifo beach or beach of Styfo is located at a small bay at the southern part of Kythnos on the western coast. The bay is quite enclosed and capable of protecting from most strong winds, except the westerly winds.
Stifo is a small beach with fine sand, a large tree giving shade stands in the middle. At the bottom there is sand interspersed with reefs and rocks on the sides. The location is particularly characterized as quiet away from cars, shops and tourists. The area has few houses inhabited only in summer from vacationers.
Geographical Position
(from the center of the beach)
37 ° 20'04.53" (Latitude)
24 ° 22'47.11" (Longitude)
Access to the beach of Stifo Kythnos
The approach is:
a)
By car
from the dirt road on the way to the southern tip of the island. It is the last road before Agios Dimitrios.
b)
By boat
mainly from the port of Merichas. But beware there is no pier.