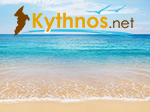 Simoussi beach in Kythnos is located on the southeastern side of the island, between the famous beaches of Skylos and Gaidouromandra. Locals and holidaymakers who want to enjoy the sea in absolute peace and tranquility just love it. Close to Simoussi is the settlement of Kytnousa.
Characteristic of the site are a series of hills that gradually descend to the sea and end up at Simousi beach, with its crystal blue waters and golden sand. Τhe terrain's morphology makes it a sheltered beach with calm waters. The sandy beach is followed by a series of low and high rock formations that create successive small capes, plateaus and coves. The unique ecosystem that surrounds the beach extends amphitheatrically around the beach and offers wonderful view of Serifos island.
Access to the beach is easy by car, through a dirt road. On Simousi you will find no sun beds and cafes so anyone who wants to enjoy it should come equipped with all the necessities.
Geographical position
(at the beach's center):
37° 32' 60.36" (Latitude)
24° 41' 14.46" (Longitude)
Access to Simoussi Beach
By sea
:
Simousi beach is an ideal destination for those who take a boat trip or want to visit using a sea taxi. There are rarely boats here, but sporadically they make their appearance as a stopover from the beach of Gaidouromandra and Skylos.
By road
:
Simoussi beach in Kythnos lies 30 minutes away from Merichaσ, about 15km. To get there first drive towards Dryopida and continue towards Flampouria village and after you pass the church of Agios Konstantinos continue straight and about 14 km from Merichas turn left. After 500m turn left again and get to the beach.
To get from Chora, drive south towards Dryopida, on the provincial road of Merichas - Kythnos, pass outside and continue towards Flambouri. To reach the beach of Simoussi continue as above. The drive takes about 25 minutes and the distance is 15km.