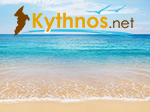 In the northwest of Kythnos, just before the beach of Agios Sostis, is the small beautiful beach of Potamia. Its orientation is such that the Aegean winds do not reach it. Its deep crystal waters, attract those holidaymakers who want to enjoy an isolated swim surrounded by the imposing scenery of the beach.
To reach the beach of Potamia in Kythnos, you have to leave your car at the end of the dirt road and then descend a small paved path. On the beach there are a few trees that offer shade to the visitor. The beach is not organized so you have to make sure you have all the necessary with you.
Geographical location (in the center of the beach):
37 ° 45'99.03 "(Latitude)
24 ° 42'89.80 "(Longitude)
Access to the beach Potamia
By sea
:
Potamia beach is the closest beach to Loutra, so many are the ones who choose to visit by boat. The route does not last more than 10 minutes. On the beach you will rarely see large sailing boat as the bay is not one of the islands anchorages.
By road
:
Access to the beach is done by a dirt road that has several turns, but the breathtaking beauty of Potamia will reward you. It is just 4.5 km from Loutra, about 12 minutes drive. To get from the port of Merichas initially you drive towards Loutra for about 11 km and after you pass the sign that says that you have entered in Loutra, there is a small sign placed low and left directing to the beaches Potamia and Agios Sostis. Then you turn left on a dirt road until you find a sign that points to Potamia. The drive lasts about 30 minutes and the distance is 15km. To get from Chora, you have to drive to Loutra and continue as above. Approximately a distance of 9 km and a 20 minutes long drive.