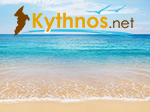 The beach of Petrousa in Kythnos is the most southern beach on the east side of the island. To find it you have to head south to the settlement of Agios Dimitrios and continue east to reach the deserted beach of Petrousa. Note that access by car is up to a point and after that you follow a path to reach the distant yet dreamy beach.
Petrousa beach is sandy with crystal clear waters with rock formations at both ends and without the shadow of native trees that characterize most of the beaches of Kythnos island. As the beach is not organized you should have all with you the necessary to enjoy this isolated and secluded beach.
On the back of the beach and along the path you will walk to reach it, is a clump of trees on your left side and a few cottages and villas that enjoy the magnificent view and beauty of the landscape of this isolated beach, preventing direct access to Petrusa beach.
The Petrousa beach although remote, has a vast number of sunbathers that look for a more quiet place to swim. The fact that there is a paved road to the village of Agios Dimitrios helps a lot those who want to visit it.
Geographical location (in the center of the beach):
37° 18' 14.79" (Latitude)
24° 22' 49.03" (Longitude)
Access to Petrousa Beach
By sea
:
A lot of visitors choose to make the roundabout of the island with boats, reaching the southern bays of the eastern side of the island and the deserted and windy Petrousa beach. But here you will rarely find anchored boats as the beach does not belong to the anchorages of the island, but it is definitely a stop for swimming away from the tourist beaches.
By road
:
You can reach Petroussa from the port of Merichas following one of the two main road axes of the island. First you head towards Driopida and then cross the mainland along. It is a 22 km distance and the drive lasts about 40 minutes. Starting from Chora you head south to Driopida and drive for about 24 km. After reaching the village of Agios Dimitrios, continue turning left in an easterly direction, left again for about 2 km and finally right for 1 kilometer where the road stops and the path starts. At the end of the path through the villas you reach the beautiful and deserted beach of Petrousa.