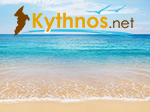 The beach Martinakia is the nearest beach to the port of Merichas, less than a kilometer. Usually tourists who prefer to limit the movements during their holidays choose this small but nice beach, as it is within a walking distance of the port and the busy market area of Merichas as well.
Martinakia is located on the northwest side of the island, in the broad bay of the harbor of the island. The hill that rises between Merichas and the beach, which is about 155m high, defines the south side of the beach. Behind the beach and the northern edge there are some scattered local houses, but also some apartments and studios. There is also one tavern around, which can satisfy the vacationers. Of course, there are more option in terms of dining, entertainment and shopping in the nearby port of Merichas.
Martinakia is a small beach with sand and small pebbles which overlooks the port and tourists can watch ships arriving or departing from the port. Many trees are scattered along the beach, where vacationers can enjoy their shade. In Martinakia beach you can encounter families and young people, most of them from the nearby port of Merichas which hosts much of the island's visitors.
Geographical Position
:
* 37°23'35.31" Latitude
* 24°23'53.19" Longitude
Access to the beach of Martinakia
By sea
Merichas as the port and the main anchorage of the island gathers many boats and speedboats and is located a stone's throw from the Martinakia Beach, so many yacht owners visit the beach.
Through road or footpath
The beach Martinakia is next to the port of Merichas. The distance from the port to the beach is 900 meters and just 2-3 minutes by car and about 15 minutes if you prefer walking . At the foothills of the hill that separates the harbor Mericha from the beach, just above the rocks and after the dock, there is a path from where you can also reach Martinakia Beach. The distance is less than to follow the main road and about 600 meters total.
The distance from Chora is 6.5 km and follows the basic Provincial Highway heading west towards Mericha, passes from Episkopi Beach and then left before port of Merichas is the Martinakia Beach.