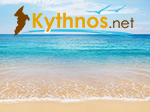 Liotrivi beach in Kythnos is located on the eastern side of the island near the more known beach Kalo Livadi. Whoever wants to visit this picturesque beach visitor should be equipped with all the essentials. It is ideal for the ones who need a bit of privacy away from the crowded beaches. But beware because in full season someone else might chosen forr the same reasons.
Geographical position (in the center of the beach):
* 37° 36' 86.45" (Latitude)
* 24° 44' 89.86" (Longitude)
Access to Liotrivi beach
You will find just below the road leading to Kalo Livadi.