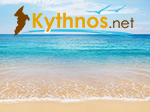 The beach is found in the central portion of the bay of Merichas, near the harbor, and is called Gialos (the beach) as is customary in most Cycladic islands. Visitors arriving to the island after the disembarkation pier initially meet the fish market, then stores and restaurants, all literally by the sea and in the center of the bay of Gialos (or Yialos) beach.
Residents of the seaside village of Merichas choose Gialos (or Yialos) beach, as they combine their bathing with their daily activities. Gialos beach is preferred by young people who want to be around the busy port as well as those on holiday who decide to minimize travel and move around mainly as pedestrians.
The valley of the village of Merichas formed between Petrovouni on the right and the Akrotiria (Cape's) hills leading to beautiful beaches on the west leading to Gialos beach. It is a beach surrounded by the amphitheatrically built village of Merichas. The Merihas beach (Gialos) is quite large, about 200 meters long, with a mixture of sand and small pebbles and scattered whitewashed "Armiriki" trees.
Standing on the beach of Gialos, on your right is the pier with the ferry, continued by the marina with moored boats and fishing boats a little further and shops, cafes and taverns closer.
The lively village and harbor of Merichas provide many choices for a bather of Gialos Beach in terms of dining and fun, as well as residence. There are many restaurants to taste the local cuisine and fresh fish, do not miss the octopus, they are spread everywhere. Close to the beach there are also many cafes and bars for your evening entertainment and a variety of accommodation.
To the left of the beach over the sea rises the chapel of the Akindinon Saints, who are considered patrons of the harbor and the boats. Kythnos honors the Saints every year on November 2 with a big festival.
Geographical position
(at the beach's center):
37°23'19.07" (latitude)
24°23'49.20" (longitude)
Access to the beach of Gialos
By Sea
:
The Gialos (Yialos) beach is located in the bay of Merichas, which is the port and the main anchorage. So you can reach the island by ship and with speedboats and sailboats.
By road or path
:
The Gialos beach is next to the port of Merichas, approximately 150 meters. The distance from the town (Chora or Hora) is seven kilometers and follows the basic Provincial road heading west towards Mericha, skirts Episkopi and ends up in Mericha. Just before the harbor on your left is the beach of Gialos.
For those who love hiking a path three kilometers in length leads to Yialos beach starting at Flabouria crosses the Akrotiria (Cape's) hills on the ridge keeping the rugged coastline to the west and the mountainous landscape to the east.