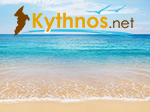 The beach of Fykiada in Kythnos is located next to the famous beach of Kolonas, in the northwest part of the island, in the bay of Kolonas just before the homonymous beach. The access by car after the bay of Apokrousis is via a rather bad dirt road. Coming from Apokrousis bay on the dirt road, the beach of Fykiada looks tempting, but finally most of visitors choose the famous Kolona with its distinctive natural beauty.
The beach of Fykiada has turquoise waters with sandy seabed and algae alternating with sand. The beach is big and wide so you can enjoy your swim in a quiet environment, away from the crowds and boats of the nearby beach of Kolona.
At Fykiada beach there are only a few tamarix trees at one end and as it is not organized and you will not find sunbeds or umbrellas so it's better to come prepared. Nonetheless if you want to refresh yourself there is a small bar in one end.
Two almost identical mountain slopes, called Kolones, descend to the beach and in front of them lies the beach of Fykiada. The scenery is magnificent as it overlooks Kolona beach that connects the island of Kythnos with the rocky island of Saint Lucas.
Geographical location (in the center of the beach):
37 ° 24'56.16 "(Latitude)
24 ° 22'58.80 "(Longitude)
Access to the beach of Fykiada
By sea
:
Access by sea is easy, as from Marichas port many water taxis arrive daily on the famous beach of Kolonas which is next to Fykiada. At the same time, as the beach of Kolona is a pole of attraction for boats, many prefer the quiet anchorage of Fykiada. It gives good shelter from etesian winds and is suitable for overnight stays.
By road or path
:
The beach of Fykiadas lies 8.5 km north of Mericha's harbor. First one reaches the beach of Apokrousis and then continues to the left on the dirt road, which is very narrow in some places and with some closed turns. From Chora after 7 km in 17 minutes, in the southwest direction, at the junction to Merichas you turn right and reach the beach of Apokrousis. Following the dirt road and about 400 meters before Kolona is Fykiada.
Those who love walking can follow the path to the archaeological site of Vryokastro, which continues to the beach of Apokrousis and then to Fykiadas. From Chora you can start on another hiking trail until Apokrousi (4.2km) and from there continue to Fykiada.