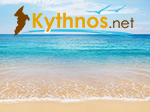 Arkoudi beach is an ideal destination for all those who want to enjoy a few moments of relaxation in calm waters in Kythnos. It is very close to Loutra and the popular beach of Agia Irini. Arkoudi is an ideal destination for those who want to swim far from the crowded beaches in Loutra and prefer to enjoy swimming in a quiet place. Arkoudi Beach will conquer you with its crystal clear waters and the natural beauty that sourrounds it. Arkoudi beach is not organized so make sure you have all you need with you!
Access to the beach of Arkoudi
By sea
:
Starting from the port of Loutra by boat access to Arkoudi beach is particularly easy as it is a bay within the broader bay of Loutra. This will take you less than 2 minutes on a high speed boat as you are only half a mile away! Pay little attention to the anchor as the bottom contains several seaweed. If it is blowing north don't be fooled by the short distance from the Baths as you will sail vertically in the north winds to enter the Arkoudi bay.
By road
:
Arkoudi Kythnos beach is accessible by road from the asphalt road that connects Loutra with Agia Irini. Specifically it is 600 meters from Loutra Beach and 400 meters from Agia Irini Beach.
Gentle traffic from vehicles on the road to Arkoudi also offers easy pedestrian access. You will need only 7 minutes of moderate walking to cover 600 meters from the beach of Loutra while 5 minutes of moderate walking are sufficient if you are starting from Agia Irini which is only 400 meters away.