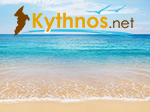 The Apokrousi beach Kythnos is one of the most beautiful beaches on the island. It is located in an enclosed bay in the northwestern section of the island of Kythnos among small hills. It offers easy access via the main paved road and wonderful view to also special Kolona beach.
The Apokrousi beach is among the largest of Kythnos' beaches and sandy. Swimming is fun in the crystal clear waters that reflect sunlight, making the bottom visible. Along the beach in most parts "Armiriki" trees grow quite able to protect you from the sun while enjoying the shade and the sound of the rustling of the leaves.
The position of the beach in the small gulf of Apokrousi is ideal and offers unique views. Being in the center of the beach, right and left, the corner of his eye catches the golden colors of the bare hills, gradually approaching each other. In the center lie the blue waters that touch the horizon, while the eyes are drawn to the facing island of St. Luke's Beach Kolona. Truly the words are too few to capture the idyllic views.
A Beach Bar is in operation at the Apokrousi beach, which offers drinks, soft drinks and snacks, with magnificent views of the bay. Also in the village are few rooms and two taverns where visitors can taste the local cuisine with distinct dishes from local ingredients.
In the lower hill bordering the northern part of the bay of Apokrousi beach is a small chapel. There lies the road that leads to the famous beach of Kolona. On the hill that rises to the south of the beach is the archaeological site of Vryokastro, which was the ancient capital of the island and excavations have revealed numerous findings.
Geographical position
(at the beach's center):
37°24'46.34" (latitude)
24°23'51.02" (longitude)