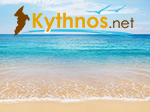 Alyki beach (or Aliki) is located at the south end of Kythnos, very close to the settlement of Agios Dimitrios. Τhe visitor gets fascinated by the unreal beauty of the landscape that combines the turquoise sea, the blue sky and the golden stones around the beach.
Free from any human intervention beach mights have a bit difficult access by dirt road, but it will reward you with the wild beauty of its landscape. Protected by the Aegean winds, it gives the absolute sense of relaxation and isolation to the visitor and welcomes him to lie on the sandy beach. People rarely choose Alyki so you can enjoy it by gazing alone at the endless blue sea. Those who want to enjoy swimming should be equipped with all the necessities as Alyki Beach is not organized and you will find no shade there.
Geographical position
(at the beach's center):
37° 31' 82.96 "(Latitude)
24° 37' 39.01 "(Longitude)
Access to Alyki beach
By sea
:
You can reach the beach of Aliki in Kythnos either by boat or by renting a taxi from of Agios Dimitrios. If you spend your holidays in the area by boat is a place you should not miss!
By road
:
To get to the beach by car, before the village of Agios Dimitrios you have to turn right on the dirt road you will meet. You may get a little bit tired driving but surely when you look at the beautiful scenery of Alyki you will forget any difficulties you might have encountered.