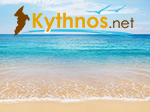 Agios Sostis is one of the most beautiful and isolated beaches of the island. It is located at the northern end of Kythnos and is named after the nearby chapel. Agios Sostis sea bed attracts every year the fans of scuba diving to admire and explore the crystal clear waters. Although Agios Sostis beach is found in the northern part, its orientation is southeast, thus offering protection from the Aegean winds. In front of the beach there are small newly built country houses that give it a beautiful traditional Aegean feeling.
The beach of Agios Sostis in Kythnos has mainly pebbles and sand. It is a rather long beach allowing a lot of space for everyone. In the middle of the beach there are few trees that can offer shade from the hot summer sun. The beach is not organized so you have to come equipped with all the necessities. In the middle of the beach there is a small rock peninsula that creates two separate beaches. The left, which is the smallest, is more isolated and remote, making it ideal for those who want to enjoy some privacy away from the cosmopolitan beaches of Kolonna and Loutra. To get there you have to take the path that is on the edge of Agios Sostis beach, after the chapel, and within 3 minutes you are there.
The church of Agios Sostis overlooks the beach, giving it a Cycladic feeling with its white color. It is definitely worth a visit, since inside it is a beautiful old icon of the Saint. From there you will have an impressive view of the whole beach with its clear blue waters and the white of sand. It is an ideal spot to take a panoramic picture of the entire beach.
Geographical location (in the center of the beach):
37° 46' 16.84" (Latitude)
24° 43' 33.19" (Longitude)
Access to Agios Sostis Beach
By sea
:
The beach of Agios Sostis is very close to the village of Loutra, but few are the ones who choose to visit by boat. You will also find it empty from sailing boats as it is not one of the anchorage of the island.
By road
:
Agios Sostis beach is only 2 km from the Loutra a route that takes us 15 minutes by car. There is a new dirt road that facilitates the access. From Loutra one has to drive south and then north following the signs. From Merichas the journey takes about 35 minutes and the distance is 17 km. You have to follow the provincial road towards Chora of Kythnos and then take the road to Loutra and before entering the village we continue to the beach of Agios Sostis.