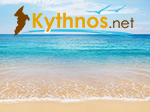 The geology of Kythnos and its rambling coastline create protected from wind bays and beaches, ready to accommodate anyone who wants to admire the underwater life. The underwater scenery has been sculpted by powerful streams creating images of unspoken beauty. The visitor can admire caves, ship wrecks, ridges, a big variety of fish and corals in rich colors in more than 30 diving sites.
The most popular place for diving is Agios Sostis, which has a large number of diving spots. There the diver can marvel at the sea fauna (small and big fish, corals) while the rock formations exhibit a large palette of colors. Moving in greater depths and when the weather is mild one can dive by the reef of Vouvokera, where fish of various sizes and colors can be seen. Other interesting diving spots are that of Katakefalos with fascinating rock shapes, Mamakos Bay with rich underwater life, Agios Sarantis reaching 45 meters of depth, Babakos and Glyfada. For those who want to admire the remnants of ancient vases lying on the sea bottom, then they should visit the site Ksera tis Agapis.
The sea water of Kythnos hides treasures that appeal to everyone. The shallow waters and the protected from wind sites are ideal even for beginners. More experienced divers will have the chance to admire the spectacular scenery that is full of marine life. The crystal clear waters of Kythnos are waiting for you!