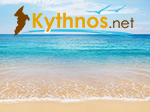 One of the most famous islands for cycling holidays in Greece is Kythnos. More and more bike enthusiasts return here every year to combine their favorite pastime with the hospitality of the Aegean island. Mild tourism and topography of the area offer ideal conditions for long or short cycling rides suitable for beginners and experienced cyclists.
In Kythnos, one can choose among a variety of roads and paths: paved roads, dirt roads and for the more fit and experienced there are mountain trails. By bike you can visit the main villages of Kythnos Loutra, Agia Marina, Dryopida, Mericha, Chora and Kanala, as well as the famous beaches of Episkopi, Apokrousis, Kolona, Martinakia and many others. Organize your cycling vacations in Kythnos and let yourself to be enchanted by one of the most beautiful Aegean islands.
Enjoy your bicycle rides in Kythnos while gazing at the endless blue of the Aegean while the breeze keeps you cool. Refresh yourself in one of the beautiful beaches of Kythnos and indulge in the local products at one of the picturesque taverns by the seashore.